Online webinars "Managing uncertainty: perspectives from theory and practice" (12 and 19 Nov 2020)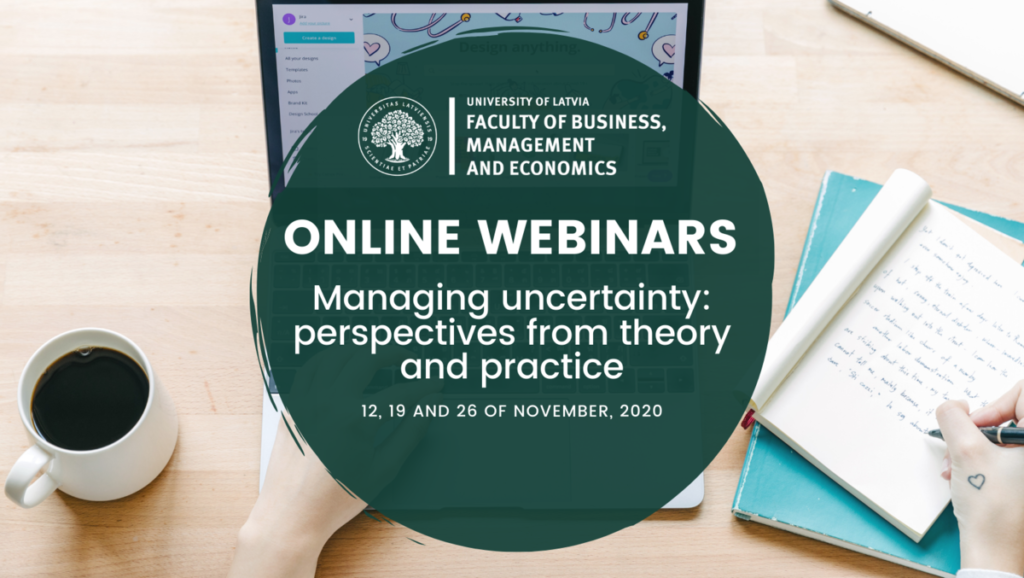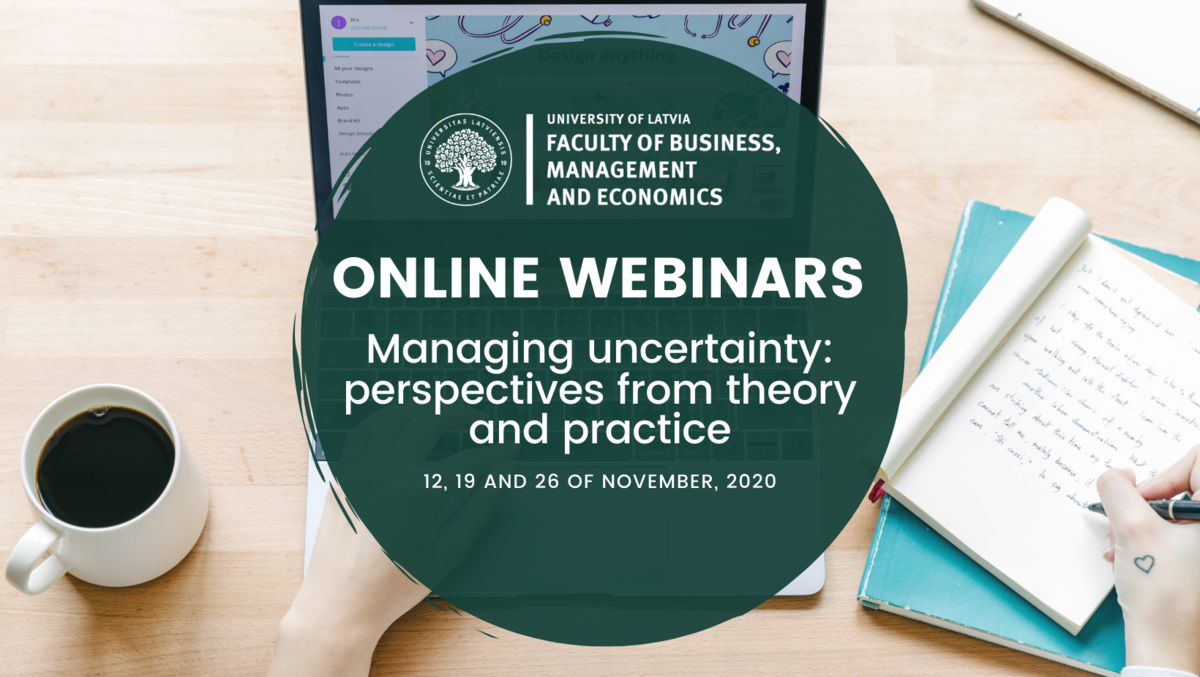 University of Latvia Faculty of Business, Managements and Economics Doctoral school invites you to participate in online webinars. The online webinars will take place November 12 and 19 from 11.00 till 12.30 at ZOOM platform and Facebook life stream. Webinars will be moderated by assoc. prof. Ilona Baumane-Vītoliņa.
November 12 webinar theme will be "Innovation ecosystem – from a buzzword to success story". This webinar keynote speaker will active member of Estonian start-up community Triin Kask. In her presentation Triin will address the current status of innovation ecosystem in Estonia – how collaboration between research organizations, universities, governmental institutions and corporate players creates fruitful environment for start-ups and what are the main gains for all actors, based on her own journey as a start-up leader and active member of community.
Panel discussants:
Kristaps Banga, "Accenture" Innovation Lead and new business developer
Aleksis Orlovs, CFO/COO/co-owner "Sonarworks"
Evita Feldberga, Head of Sectoral Policies Department, Ministry of Economics
Emil Syundyukov, PhD student, CTO "Longenesis" and Co-Founder "Koatum"
Link to live stream on Zoom
November 19 webinar theme will be "The changing international business environment and alterations to understanding success and failure of the firm". This webinar keynote speaker will be professor of the University of Turku (Finland) Peter Zettinig. In his presentation Peter, continuation with the first webinar's reflections on ecosystems will address the question how an ecosystem perspective affects the strategic rationales of internationally active firms.
Panel discussants:
Alesander Kelberg, Founder and CEO "GroGlass"
Rolando H. Delgado, Business Development Manager "MGI"
Rihards Gailums, CEO "PILOT automotive labs"
Lauma Muižniece, Head of Innovation Technology Department, Investment and Development Agency of Latvia (LIAA)
Link to live stream on Zoom.
See you at the webinars!