Online Seminar "Re-Inventing Student' Housing" (25 March 2021, 10.00-12.30 CET)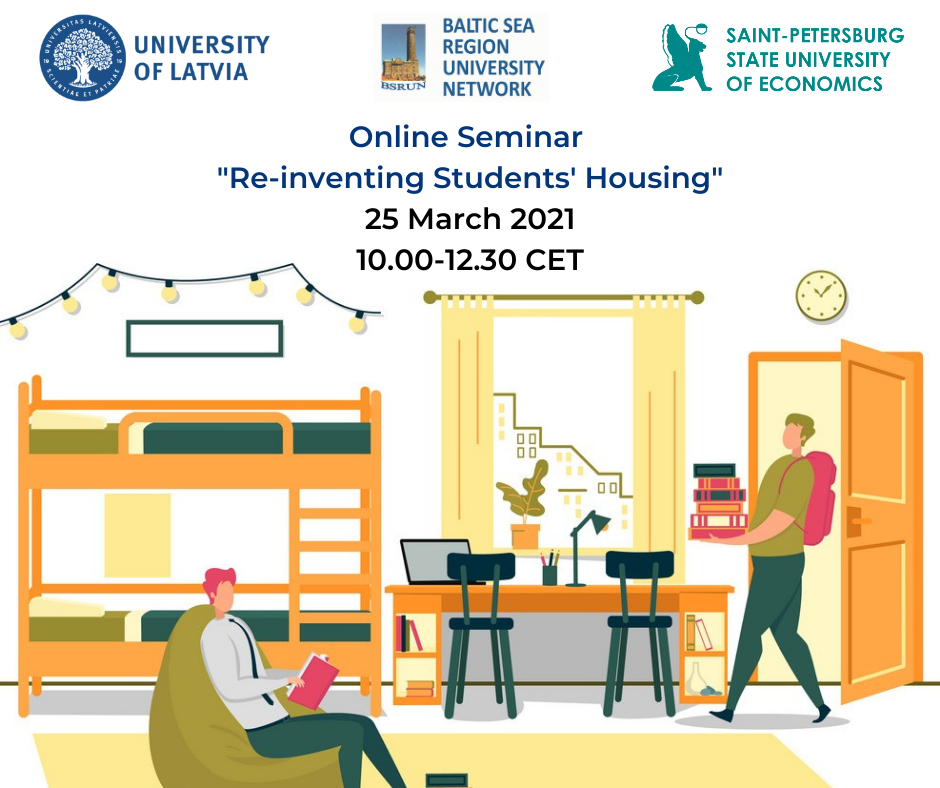 Mobility of students increases and is expected to pick up again after COVID-19. Demand for modern and high-quality dormitories increases. Student Housing experiences big changes – from old boring dorms to modern co-living/micro-living. Private developers enter market with new and modern offers for students.
Student preferences also change – there is demand for higher standards for WC and Shower, cleaning services, high speed internet, bicycle parking, gym, storage rooms, coworking area, private space, etc. Existing planning does not satisfy modern living needs and standards.
Topics for discussion:
– What is a modern dorm: hotel or apartment?
– Who is student: big child or young adult?
– How to manage big stock of old-fashioned dorms: invest/renovate, sell or give to private operators to run this business?
– Should universities participate in student housing or let free market to cover need for student accommodation?
– Should universities invest huge amount to redesign/renovate their dorms?
– Should universities just keep some stock of beds to be socially responsible and service financially unprotected social groups?
– Should dorms keep strict regulations and rules, number of watchman and
commandant or trust in students' responsibility and relax some regulations?
Date: 25 March 2021, 10.00-12.30 CET
Timing and outline: 2,5 hours with three keynotes and panel discussion.
Keynote speakers:

Mr. Marģers Počs, Director, Dept. of Infrastructure, University of Latvia
The department ensures the management of the University of Latvia buildings, maintenance and cleaning of premises and territories, performs construction work and regular repairs, maintains engineering networks, the security of buildings and fire safety, compliance with maintenance and operation standards.

Dr. Samuel Vetrak, CEO, BONARD
Samuel has over 20 years' experience advising governments, destinations, education providers or student housing investors. Since 2007, under his leadership, his staff of 50 researchers operating in four offices around the world have been providing the highest level of secondary and primary in-field data, making BONARD a leading provider of independent and reliable research and solutions. BONARD is a leading provider of independent and reliable international education and student housing data and research.

Olli Niemi, Professor, University of Tampere (TBC)
Mr. Niemi has vast experience in Campus Development research. He served as Researcher in Tampere University of Technology, Managing Director of Tampere Technology Centre Hermia Ltd., Project Director at NCC Property Development Ltd., Senior Vice President of NCC Construction Ltd., Helsinki, and Adjunct professor of R&D&I University Properties of Finland Ltd., Tampere.
The event is free and open to everyone.
For registration, please, contact:
Alyona Zaynullina, bsrun@unecon.ru
BSRUN Secretariat at UNECON